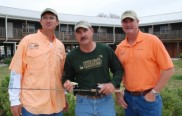 The Stansel brothers, Kirk, Guy & Bobby Joe
The "Stansel Boys" as they are known grew up fishing on Lake Calcasieu. Kirk, Guy and Bobby Joe found their passion on the lake and the duck blinds of southwest Louisiana as kids. Founded in 1975 "The Boys" have grown HR&G to be the largest charter and most respected fishing operation on the gulf coast. Their commitment to customer service, quality growth and knowledgeable employees continues to be the driving force each day. Come visit "the boys" soon and experience hunting or fishing trip that you will never forget.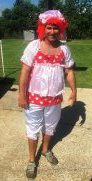 Brett is the son of Kirk and Lanette Stansel. He was raised in Hackberry on Lake Calcasieu at the knee of his dad. In 2010 Brett graduated from McNeese St. with a Wildlife Management degree. Since then he has been working fulltime and enjoys what he is doing as much as anyone. Brett is working on getting more involved and furthering his knowledge is the business. He enjoys meeting new people and sharing his knowledge on the outdoors.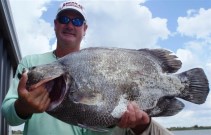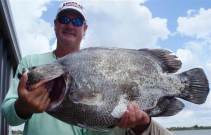 Captain Bobby Stansel – Co-Owner HR&G
Bobby began fishing at Hackberry Rod & Gun back in the early days.. At 6'6" Bobby wishes he could play basketball but believe me he is one of the best fishermen on the lake. His dry humor and quick wit will keep you on your toes.


Captain Kirk Stansel – Co-Owner HR&G
Captain Kirk Stansel, co-owner of Hackberry Rod and Gun. Kirk began his career in the fishing industry as a dedicated 20 year old after two years of college at McNeese State University. Captain Kirk is married to Lanette Stansel and has one son Brett who is also an active professional guide at the Lodge. His meticulous attention to detail drives his passion to be productive for his clients.


Captain Guy Stansel Co-Owner HR&G
Captain Guy began his fishing career here at the lodge back in his early days. Guys wife Pauline works here at the lodge and manages everything that goes on at the dock shop. He and his brother Bobby are the tallest of our staff and he can see the fish for miles. Guy is very laid back and reminds you of a person picking out peaches at a produce stand. You can see guy out on the water from time to time mentoring his MANY grandkids.


Trey was born and raised in Vinton, LA and graduated from Sulphur High School. He grew up fishing and hunting in the local marshes. Trey spent 14 years as a professional fire fighter. He has been a hunting guide since 1991 and started fishing Calcasieu several years ago. He now lives in hackberry and enjoys working for the lodge. Trey is very patient and enjoys hunting and fishing with kids.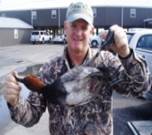 Captain Aaron Stevens "Nooks"
"Nooks" as he is known in these circles and to his customers is one of our part timers. Raised in Sulphur Louisiana "Nooks" has fished and hunted this area all of his life. One of the really true sportsmen left in the area he will eat ANYTHING. It is rumored that in his younger days he spent 2 weeks in the marsh eating nothing but the eyelids and gums of raccoons he trapped. Personally I don't believe it. Maybe the eyelids but not the gums.


Known as "Pooh Buddy". He has his own private beach located in a very remote part of big lake. Buddy has been fishing Lake Calcasieu for over 35 years. He spends most of his time CONFINED TO THE OFFICE but manages to get out on the water from time to time.


Captain Jimmy has been guiding at Hackberry Rod and Gun since 1981. We call him "Paw Paw". Jimmy is very well respected in the industry and could probably a trout or redfish in a bathtub. You can always tell when Jimmy has had his morning fix of Geritol and a shot of five hour energy! All Systems are going to be pointing on GO!


Captain Darney was born in Westlake, LA and soon moved to Gum Cove. He has been hunting and fishing in the area his whole life. Darney has been guiding here at the lodge for many years. Once Darney steps into the boat he will do whatever it takes to put his people on fish and make each day on the water the best it can be.


Jake grew up in the Vinton and Sulphur area. He has been guiding for many years now. As a kid he was raised in the outdoors and is an avid fishermen and duck hunter. He has the ability to fix anything and enjoys using heavy equipment.


Captain Darrell is one of the few long time Hackberry natives that guides for us here at the lodge. He has been fishing and hunting this area since before he can remember. Darrell is as nice and easy going as they come. He is a hard fisherman and has no problems making friends on the boat.


Captain Mike "Sugar Bear" Bares
"Sugar Bares" as we call him because he is so "sweet". Mike has been guiding with us for several years. This is Mike's third career. He was an engineer on a submarine in Navy. Mike retired for the Petro Chemical Industry with PPG to become a full time professional fishing guide. His passion for putting people on fish and a smile on their face has made Mike a great asset here at the lodge.


They call me the "fireman" that's my name!! Paul was a full time fire fighter (now retired)and has spent many years guiding part time. His big robust smile will invite you start up a conversation that may take a while to end. Paul loves the water and loves being with the clients he is guiding with. Many clients request Paul if he is not out rescuing someone from a burning building. Paul has an infectious laugh that you won't soon forget.


Avery was born in Houston TX and raised in East Texas and has been fishing since he could walk and hunting from the age of 6. Avery began a bass fishing career at a very young age. Avery was 12years old when he made his first trip to Hackberry Rod and Gun. It was that day that changed his fishing focus. The saltwater entered his veins and has been fishing in hackberry ever since. Avery even used some of his own savings to help build a family camp in Hackberry. It is now like home. Avery's passions are fishing, duck hunting, deer hunting and sharing it with others especially children, Kids become attached to him quick because of his character, big heart and patience.


Growing up in Lake Charles Austin spent most of his young years hunting and fishing Big Lake. After completing Process Technology training at Sowela Austin decided that plant work was not his deal. After managing the family concrete business for a few years, he decided to chase his dream of being a professional duck and fishing guide.

Originally from Crowley Louisiana, Dustin now lives in Hackberry and has been fishing Lake Calcasieu for 10 years. He is very laid back and easy to get to know. His passion besides fishing includes physical fitness and nutrition. Dustin believes that the end of the day is about catching fish and having a good time.

Originally from Alexandria Louisiana, Raymond is very active in CCA as well as his guiding career. Raymond is dedicated to his customers and making new friends on the boat every day. He is fulfilled when he can spend time teaching his customers more about fishing and enjoying the day on the water. He says watching the sunrise in the marsh is the best.

Tommy has been guiding for over 15 years.

Connor is From Lake Charles and is in his first year as a full-time guide. Connor has been Hunting Ducks and fishing his entire life in this area. His hobbies are photography and videography but his real passion is out on the water.

Matthew has been guiding since 2016 and comes from a big family His hobbies include ( you guessed it ) hunting and fishing but finds time to spend with his friends and family enjoying the outdoors. He says that one of the most enjoyable parts of being a guide is getting to meet new people every day.

Jared grew up in the Hackberry area Hunting and Fishing. He has spent 17 years hunting ducks and catching fish on lake Calcasieu. His customers really enjoy his dry sense of humor. He allows that the best part of being part of the team here at the lodge is getting to spend all his extra time with Captain Kirk.

Kevin IS one of the really good guys on the lake. He was born and raised in Hackberry and has been a professional guide for over 28 years. Married with one son, Kevin enjoys meeting new people each day on the boat and really enjoys showing off the most beautiful sunrises in the world right from his boat. Kevin's hobbies include fishing, gardening and his specialty ………making smoked sausage from his very own custom made smoke house. AND BELIEVE ME HE IS FANTASTIC DOING IT.

Ryan is very serious about putting his customers on fish and works hard at doing it. He has been guiding for over 8 years here on the lake. Ryan is married and they have a daughter, Amelia.

Matt enjoys the simple things. outdoors, hunting, fishing, working my hunting dogs, and sitting back with a cold one at the end of a long day. I've been in the guiding industry for 9 years and a full-time guide on the lake for the past 4. Originally from Deridder Matt moved down to go to school and never went back. He enjoys watching people come over and catch their first trout or redfish from our unique estuary, think. It is neat to talk and fish with people from all over that we all share the same general interest.

Brian is very passionate about putting his customers on fish. He has been guiding on Big Lake for over 7 years full time. He and his wife Megan have a young son named Wade. As with most of our guy's Brian enjoys spending time outdoors with his family and friends and I hear he knows his way around the kitchen cooking what he catches. His real passion is showing his customers new fishing techniques and areas to fish and do everything he can to help them enjoy their day on the water.








Our Location
The best fishing and hunting lodge in the world!
Hackberry Rod & Gun
485 Lake Breeze Drive, Hackberry, LA 70645
Call Us To Schedule
Our staff will help you check availability for your dates.
Call Us Today!
Call 1-888-762-3391 Today!
Send Us An Email
Send us an email with your trip information, questions and details.
We're Standing By!
Email info@hackberryrodandgun.com today!